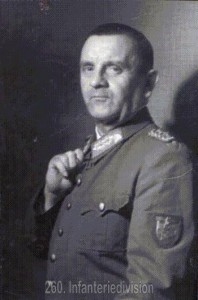 General von Choltitz led the division for 40 days only replacing Lieutenant General Hahm who was on sick leave. For the sake of completeness, here is his curriculum vitae:
He was born on November 9th 1894 in Wiese-Gräflich (Upper Silesia)
During World War I, he served as an infantry lieutenant with the 8th Royal Saxon Infantryregiment "Prinz Johann Georg" Nr. 107 on the Western Front. He remained in the Reichswehr (Infantryregiment Nr. 38) during the Weimar Republic, becoming a cavalry captain in 1929. Later, he became commander of the 3rd battalion of the Airborne Infantry Regiment 16, first as a major, and from 1938 as a lieutenant colonel.
In World War II, his battalion was engaged in the occupation of Rotterdam via air landings in 1940 (earning him a Knights Cross). In September 1940, he became commander of Infantry Regiment 16 and from 1941 as a full colonel. In the war against the Soviet Union, his regiment was engaged in the siege of the city of Sevastopol in June 1942. In the same year he became a major general, and in 1943 a lieutenant general. His command posts included assistant commander of the 260th Infantry Division and commander of the 48th Panzer Corps. From March 1944, he served in Italy, and from June 1944 on the Western Front.
On 1 August 1944, he was promoted to the rank of General of Infantry, and on 7 August was appointed military governor of Paris.
General Choltitz was held for a while at Trent Park in North London, a prison camp for senior German officers and was released from Allied captivity in 1947.
Iron Cross (1914)
Wounded Badge (1914)
Knight's Cross of the Military Order of St. Henry (26 December 1917)
Knight's Cross, 2nd class of the Albert Order with Swords
Knight's Cross, 2nd class of the Civil Order of Saxony with Swords
Wehrmacht Long Service Award 1st to 4th Class
Sudetenland Medal with clasp "Prague Castle"
Clasp to the Iron Cross
Wounded Badge (1939)
Crimea Shield
Order of Michael the Brave, 3rd class (6 October 1942)
Knight's Cross of the Iron Cross on 29 May 1940 as Lieutenant Colonel and commander of III./Infanterie-Regiment 16
Grand Officer of the Order of the Star of Romania with swords (Spring 1943)
Knight of the Légion d'honneur (France)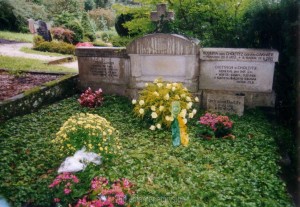 Dietrich von Choltitz died in November 1966 from a longstanding war illness in the city hospital of Baden-Baden . He was buried at the city cemetery of Baden-Baden in the presence of high-ranking French officers, including colonels Wagner (Military Commander of Baden-Baden), de Ravinel and Omézon.
Baden-Baden was the post-World War II French headquarters in Germany.
Thanks to the Choltitz family for the pictures.